Ani Abesadze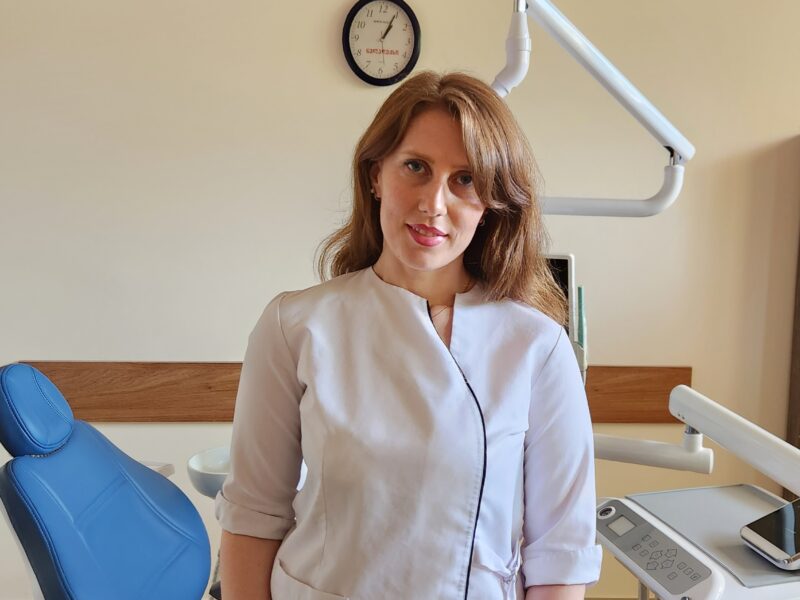 Dentist Qualification:
Aesthetic Dentist, Children's orthopedist, Endodontist, Periodontist, Therapeutic Dentist
Dentist Services : Aesthetic Dentistry, Caries prevention and treatment, Caries treatment for Children, Chemical teeth whitening, Emergency Dental Services, Gum contour correction, Gum disease treatment, Hermetization of tooth fissures, Preventive examination of children, Professional teeth cleaning, Remineralization of teeth, Smile Correction, Stomatitis Treatment, Teeth cleaning, Teeth fillings, Teeth Whitening, Therapeutic Dentistry, Tooth contouring and reshaping, Treatment of bad breath (Halitosis), Treatment of periodontitis, Veneers
Doctor Speaks : English, Georgian
I graduated from Iv. Faculty of Dentistry of Tbilisi State University named after Javakhishvili (2012-2017)
Post-graduate education – Ketevan Gogilashvili Dental Center *Albius* (therapeutic dentistry for children and others (2018-2019) periodontist.
Since 2019, we have been working as a doctor and therapist in the dental clinic of TSU.
03.2021-02.2022 doctor therapist, periodontologist position in Madison.
From 06.2023, doctor therapist, periodontologist, German clinic.
Trainings:
5.05.17 Angelika Kovshari's lecture – master class Topic: World of restoration material.
29.09.2018- News in the classification, diagnosis and treatment of periodontal and oral mucosa diseases.
25.10.2018 – "Dental Tbilisi" XII international conference.
26.10.2018- Lecture in practical endodontics
31.03.2019 – "Youth Forum"
06.04.2019 – Association of Periodontologists of Georgia and ITOP control conference. Topic: modern periodontology.
13.04.2019-14.04.2019 – IX International Dental Congress of Tbilisi.
03.11.2019- III International Children's Dentistry Congress.
04.11.2019 – Ari Kupietski – Behavioral management. Local anesthesia.
9.11.2019- Guiding principles of dental clinics.
30.04.2022 Period and oncology
25.02.2023 regional conference